About Dial-A-Ride
Dial A Ride is a fully accessible, pre-scheduled door to door transportation program, serving predominantly seniors and people with disabilities in communities throughout Montrose and Delta Counties, as well as in Norwood in San Miguel County.
(See rates below)
Am I Eligible?
The Dial-A-Ride program predominantly serves seniors 60 years of age or older and people with disabilities.  Vans are open to the general public on a limited basis, based on routes and availability. Call 249-0128 for more information.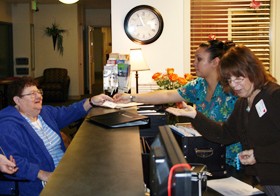 Area of Service
Local Trips are trips that take place from one point to another in a community.
Regional Trips are trips that take place from one community to another, or from outlying areas into town centers (Rates may vary, depending on current routes and availability. Call for details).
Rates
Rates for Local Trips (see circles on Area of Service Map below)
Seniors 60+
$3.50 per local trip ($7.00 round trip).
$5.00 per regional trip. ($10 round trip).
Vouchers are available through Region 10 Area Agency on Aging. Call 970-249-2436.
People with Disabilities and Under 60
$5 per trip, $10 round trip
Rates for Regional Trips (see double lines on Area of Service Map below)
Montrose County
Delta County 
Paonia to Hotchkiss:  $5 each way
Paonia or Crawford to Delta:  $5 each way
Hotchkiss to Delta:  $5 each way
Cedaredge to Delta:  $5 each way